Welcome to Salon Halo
The best Kansas City hair salon conveniently
located in the heart of the historic Columbus Park area.
Step through the doors into Salon HALO and you will find yourself transported to a haven of pampering and beauty. Nestled in a section of historic Columbus Park, also known as Little Italy, you instantly know you are not in a run-of-the-mill strip mall.
The rich history of the area, which has seen extensive revitalization in recent years, combined with the fun, unique environment and talented hairstylists of Salon HALO provide our clients with the latest techniques and trends of hair styling – Deva curl, Blonde specialists, Balayage, Ombre, fantasy colors, color correction, and grey coverage to name a few.Salon HALO not only provides its clients with a variety of trending hair styles and hair extensions, but also full body waxing. It also offers full wedding party prep (makeup and hair) to make sure everything is perfect for the client's special day.
Salon HALO not only provides its clients with a variety of trending hair styles and hair extensions, but also full body waxing. We also offer full wedding party prep (makeup and hair) to make sure everything is perfect for the client's special day.
Book with us today! Salon Halo is known in Kansas City for our hair cuts and styles.
Salon Halo Team
Would you like to find the right stylist for your hair? Salon Halo has the right stylist for you.  We are staffed with experienced and talented hairstylists!! No matter whom you choose, Salon HALO wants your next salon experience to be fun, revitalizing, and pampering.
Our team is professional and each brings their own specialty to Salon Halo. Click on their image to learn more about the styles they specialize in, and how to reach them personally if you have questions for a specific stylist.
Quality Styling Services
The best hair salon in Kansas City is a full-service salon
offering an extensive menu of styling services:
Women's Cut | Deva Curl Cut | Men's Cut | Children's Cut | All over color | Base/Retouch | Partial Highlight | Full Highlight | Highlight/Lowlight | Balayage/Ombre | Pravana Vivids Fantasy Colors | Brazilian Blowout | Blowout | Special Occasion Hair | Eyebrow Tint | Eyelash Tint | Hair Extensions | Makeup | Facial Dermaplaning w/Peel | Eyebrow Wax | Lip/Chin Wax | Underarm Wax | Chest Wax | Back Wax | Arm Wax | Leg Wax | Brazilian Wax (women only)
Whatever the occasion it is a special and important day of your life. Let us help you LOOK YOUR ABSOLUTE BEST!…for the entire day. We will capture and enhance your natural beauty creating the most beautiful, perfect look you have always dreamed of. You will feel as gorgeous as you look, radiating confidence and glowing from the inside out!
Having obtained professional training and years of experience with weddings, proms, homecomings, photo shoots, you can be assured of beautiful hair and makeup!
We only use professional quality products. All of our products are hypo-allergenic and are applied using professional hygienic techniques. All makeup is specifically made for HD video and photography.
Are you getting married or have a special occasion in the greater Kansas City area? We provide on-location makeup and hair service for the entire bridal parties, teen groups, anywhere in the Kansas City area and surrounding locations. No wedding party is too large as we have three highly experienced makeup and hairstylists with years of experience in weddings and event work.
Our salon has a complete bridal suite as well for your entire wedding party should you choose to come here for your services.
Wedding Services
Rates
Bridal Makeup
$95
Bridal Hairstyling
$85
Strip Eyelashes
$20
Bridal Party Makeup
$60
Bridal Party Hair Styling
$60
Flower Girl Hair (10yr under)
$35
Flower Girl Makeup (10yr under)
$25
Clip-in Extension (supplied by you)
"in addition to the hair styling"
$35
Makeup Trial
$50
Hair Trial
$50
Lash Trial
$15
| Minimum of $250 in services to go on location | |
| --- | --- |
| Traveling Fee | Please inquire. Rates vary. |
| $20 Downtown/Plaza | $30 Parkville/Gladstone |
| $35  Overland Park | $35  Liberty / Smithville |
| $45  Independence / Kearney / Excelsior | $75 Lawrence |
| $60 Blue Springs / Lee's Summit / Olathe/ Lenexa | $100 St Joseph |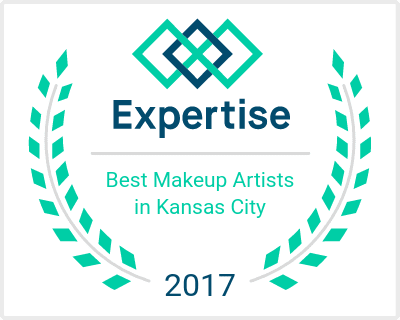 Contact us for your trial. We would love to meet with you.
Client Praise
Many of our clients refer to us
as the best hair salon in Kansas City!
Contact Us
538 CAMPBELL STREET | KANSAS CITY, MO 64106
TEL | 816.492.7033
Salon Policies
SALON POLICIES | PRIVACY NOTICE | TERMS OF SERVICE
Cancellation Policy
If you need to reschedule or cancel your appointment, we request a 24hr notice out of respect to our stylist's schedule.
If you are new to our salon we require a credit card on file to book an appointment, if you cancel or reschedule within 24hrs of your appointment we reserve the right to charge you for 1/2 of your missed appointment.
All no shows are charged a 50% service fee. No exceptions.
All appointments are confirmed 24hrs in advance via email and text messages.
Children & Salon Halo
We pride ourselves in offering all our clients a relaxing atmosphere.  Children that are receiving services are welcome.  However, if your child/children do not have an appointment, we ask that you do not bring them along to your appointment.
Salon Halo Privacy Policy
This privacy policy discloses the privacy practices for www.besthairsaloninkansascity.com. This privacy policy applies solely to information collected by this website. It will notify you of the following:
What personally identifiable information is collected from you through the website, how it is used and with whom it may be shared. What choices are available to you regarding the use of your data. The security procedures in place to protect the misuse of your information. How you can correct any inaccuracies in the information. Information Collection, Use, and Sharing. We are the sole owners of the information collected on this site. We only have access to/collect information that you voluntarily give us via email or other direct contact from you. We will not sell or rent this information to anyone.
We will use your information to respond to you, regarding the reason you contacted us. We will not share your information with any third party outside of our organization, other than as necessary to fulfill your request.
Unless you ask us not to, we may contact you via email in the future to tell you about specials, new products or services, or changes to this privacy policy.
Your Access to and Control Over Information You may opt out of any future contacts from us at any time. You can do the following at any time by contacting us via the email address or phone number given on our website:
• See what data we have about you, if any
• Change/correct any data we have about you
• Have us delete any data we have about you
• Express any concern you have about our use of your data
Security
We take precautions to protect your information. When you submit sensitive information via the website, your information is protected both online and offline.
Wherever we collect sensitive information (such as credit card data), that information is encrypted and transmitted to us in a secure way. You can verify this by looking for a closed lock icon at the bottom of your web browser, or looking for "https"; at the beginning of the address of the web page.
While we use encryption to protect sensitive information transmitted online, we also protect your information offline. Only employees who need the information to perform a specific job (for example, billing or customer service) are granted access to personally identifiable information. The computers/servers in which we store personally identifiable information are kept in a secure environment.
Updates
Our Privacy Policy may change from time to time and all updates will be posted on this page.
Sharing
We share aggregated demographic information with our partners and advertisers. This is not linked to any personal information that can identify any individual person.
And/or:
We use an outside shipping company to ship orders, and a credit card processing company to bill users for goods and services. These companies do not retain, share, store or use personally identifiable information for any secondary purposes beyond filling your order.
And/or:
We partner with another party to provide specific services. When the user signs up for these services, we will share names, or other contact information that is necessary for the third party to provide these services. These parties are not allowed to use personally identifiable information except for the purpose of providing these services.
Links
This website contains links to other sites. Please be aware that we are not responsible for the content or privacy practices of such other sites. We encourage our users to be aware when they leave our site and to read the privacy statements of any other site that collects personally identifiable information.
If you ever collect data through surveys or contests on your site, you might insert a paragraph like this in your privacy policy:
Surveys & Contests
From time-to-time, our site requests information via surveys or contests. Participation in these surveys or contests is completely voluntary and you may choose whether or not to participate and therefore disclose this information. Information requested may include contact information (such as name and shipping address), and demographic information (such as zip code, age level). Contact information will be used to notify the winners and award prizes. Survey information will be used for purposes of monitoring or improving the use and satisfaction of this site.
If you feel that we are not abiding by this privacy policy, you should contact us immediately via telephone or via email.
Salon Halo Terms of Service
Please read these Terms of Service completely using www.besthairsaloninkansascity.com which is owned and operated by Salon Halo. This Agreement documents the legally binding terms and conditions attached to the use of the Site at www.besthairsaloninkansascity.com.
By using or accessing the Site in any way, viewing or browsing the Site, or adding your own content to the Site, you are agreeing to be bound by these Terms of Service.
Intellectual Property
The Site and all of its original content are the sole property of Salon Halo and are, as such, fully protected by the appropriate international copyright and other intellectual property rights laws.
Termination
Salon Halo reserves the right to terminate your access to the Site, without any advance notice.
Links to Other Websites
Our Site does contain a number of links to other websites and online resources that are not owned or controlled by Salon Halo.
Salon Halo has no control over, and therefore cannot assume responsibility for, the content or general practices of any of these third party sites and/or services. Therefore, we strongly advise you to read the entire terms and conditions and privacy policy of any site that you visit as a result of following a link that is posted on our site.
Governing Law
This Agreement is governed in accordance with the laws of Missouri, United States.
Changes to This Agreement
Salon Halo reserves the right to modify these Terms of Service at any time. We do so by posting and drawing attention to the updated terms on the Site. Your decision to continue to visit and make use of the Site after such changes have been made constitutes your formal acceptance of the new Terms of Service.
Therefore, we ask that you check and review this Agreement for such changes on an occasional basis. Should you not agree to any provision of this Agreement or any changes we make to this Agreement, we ask and advise that you do not use or continue to access the www.besthairsaloninkansascity.com site immediately.
Contact Us
If you have any questions about this Agreement, please feel free to contact us from the information provided on the www.besthairsaloninkansascity.com website.